This time last year I had fun putting together a little gift guide for honey lovers and I've already had some requests for another one for this year. Here are our ideas – we have used and love all these things ourselves.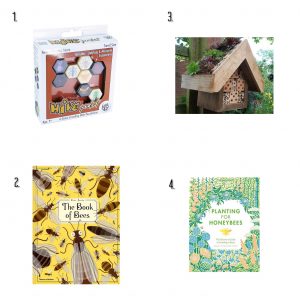 1. Hive game     £14.95
I've mentioned this game before and we still really like it! It's a 2 player game with easy to learn rules and doesn't take long to play. It's simple enough for our 6 year old to play and tactical enough to keep scheming adults amused. We have the pocket version and it often travels with us on trips.
2.  The Book of Bees    £12.12
We have a copy of this book and I've bought numerous copies of it as gifts. It is a large hard backed book with all sorts of information in it about honey bees. The graphics are fun and clear and the information is accurate and informative. It covers all sorts of things including pollination, hives and folklore. I particularly like it because it can be used as a picture book for young children or for information for older children and adults.
3. Bug Houses  from £25
I first came across these particularly delightful bug houses when we were both featured in the same edition of the North London magazine Village Raw – (a subscription would also make a great gift!).  Alan Briggs hand makes these insect houses in North London – they are fantastic for encouraging solitary bees and ladybirds to nest in your garden.
4. Planting for Honey Bees  £7.06
This little book is beautifully illustrated and has some great ideas about which plants to plant to encourage honey bees to visit your garden. There are tips for planting containers and balconies too, so there's no restrictions if you don't have a garden. There are ideas for plants by season, so it is possible to provide bee forage for most of the year. It is written by Sarah Wyndham Lewis, who is a London beekeeper.
Finally, I would also suggest our own beeswax wraps – we've been making these for years now and they are always make a popular gift. We are striving to use less plastic in our lives and these make wrapping sandwiches, snacks, fruit, bread, herbs etc simple and sustainable.